Prices to Scrap Material
Do you have excess metal from a job or unwanted items around the house? Turn them into cash! Sahd Metal Recycling makes it easy with quick, friendly service to turn your junk into money!
Bring us your old stoves, frying pans, bicycles, aluminum cans and electrical wire, and countless other metal items, and we'll recycle all of them! It's a win-win for you and the environment.
For larger jobs and cleanouts that may need pickups or a dumpster drop, Sahd Metal Recycling is your answer as well. For a fee out of the value of the metal, we will do our best to help you get rid of your junk! And of course, if you are looking for dumpster or pickup service for your business, visit our Industrial Service page.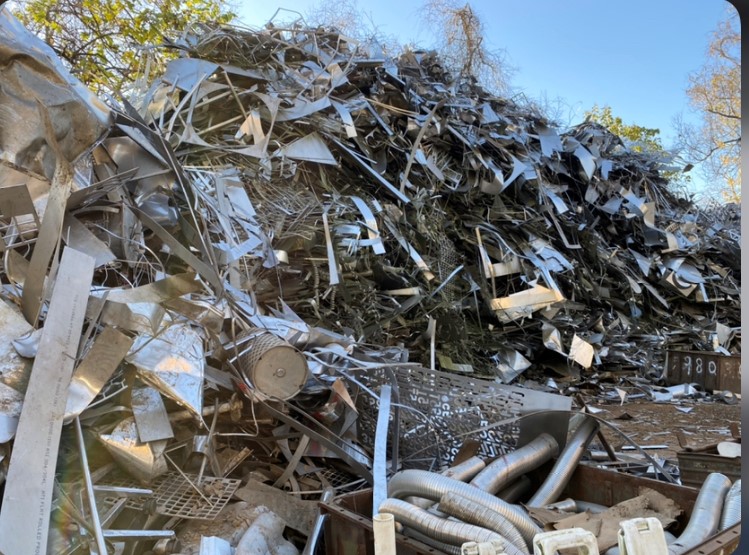 Acceptable Materials
PROCEDURE
(Mon-Fri 8am-4pm)
First time visiting us? Welcome, become a valued customer today! Bring your scrap in your car, truck or trailer. Get it weighed at our certified scales. Unload, and then get paid our competitive current market scrap prices at our self-service ATM.
Before you Load Your Material
Review our Scrap Specifications list of what we don't buy or items that must meet special conditions.
Review the yard layout.
Separate as much as possible in your vehicle, and if you don't know if it sticks to a magnet, keep it separate from what doesn't.
When you visit!
Drive onto our scale with your scrap and present a valid photo ID and have a mask.
Our receptionist will greet you and direct you to your unloading spot.
If given a ticket at your unloading spot, come to the office to cash out at our ATM! If you don't get a ticket, pull back on the scale for a light weight and then park and come into the office to cash out!
Safety First, Always
Please observe these safety guidelines in our facilities:
Stay clear of heavy equipment.
Make eye contact with the operator before moving around mobile equipment.
Follow directions of traffic directors and inspectors.
Only enter the unloading areas when instructed.
Exit the vehicle and stay in the designated area if your vehicle is unloaded with mobile equipment.
Wear closed-toe shoes and use gloves to handle scrap
Observe "No Smoking" and "Do Not Enter" signs in the yard.
Watch out for pedestrians while driving (especially when backing up).
Please stop at our main gate and proceed slowly to have your scrap monitored for radiation.